Dedicated to children with special needs
Our earnest endeavor to make their lives better
The CNDC at the Polaris Neurosciences is a complete Child Neurology, Neurophysiology , Rehabilitation Set-Up which aims to cater to the Neurological and Developmental problems in children with special needs in a holistic way. It is a one stop set-up with state of art facilities to help children and their parents deal with Neurological, Educational, Psychological and Behavioural problems.
Our team consists of experienced, trained and dynamic individuals, experts in their respective fields. It consists of a Pediatric Neurologist, Geneticist, Pediatric Physiotherapist, Occupational therapist, Special Educator and Speech therapist.
The team approach involves thorough scientific evaluations of the children and providing highly specialised multidisciplinary inputs to make a treatment protocol befitting the patient goals. The treatment protocols are based a lot on parent feedback and are mainly patient-centric.
The therapy rooms contain state of art equipments which are children-friendly and a lot of therapy is play based, to make the child to actively participate in the rehab process. A variety of integrated programs such as Early intervention screening, sensory play, ADL training, educational programs, handwriting interventions, remedial programs, speech therapy sessions, play based therapy, group therapy, vestibular rehab etc. have been designed for mainstreaming of the children with special needs. Most of the programs are based on one-on-one therapist-child interaction providing adequate time for the sessions.
We conduct various free check up and awareness camps for sensitising the citizens about the special needs and differently abled kids, thereby improving their societal acceptance.
World-Class Treatment of Child Care Related Problems By An Trained Senior Doctors
• Neurological and Developmental paediatric assessments
• Genetic work-up and Counselling
• Early intervention Programs
• Neurodevelopment Therapy (NDT)
• Occupational therapy (OT)
• Sensory Integration (SI)
• ABA
• Special Education
• Speech therapy
• Psychological counseling for parents and siblings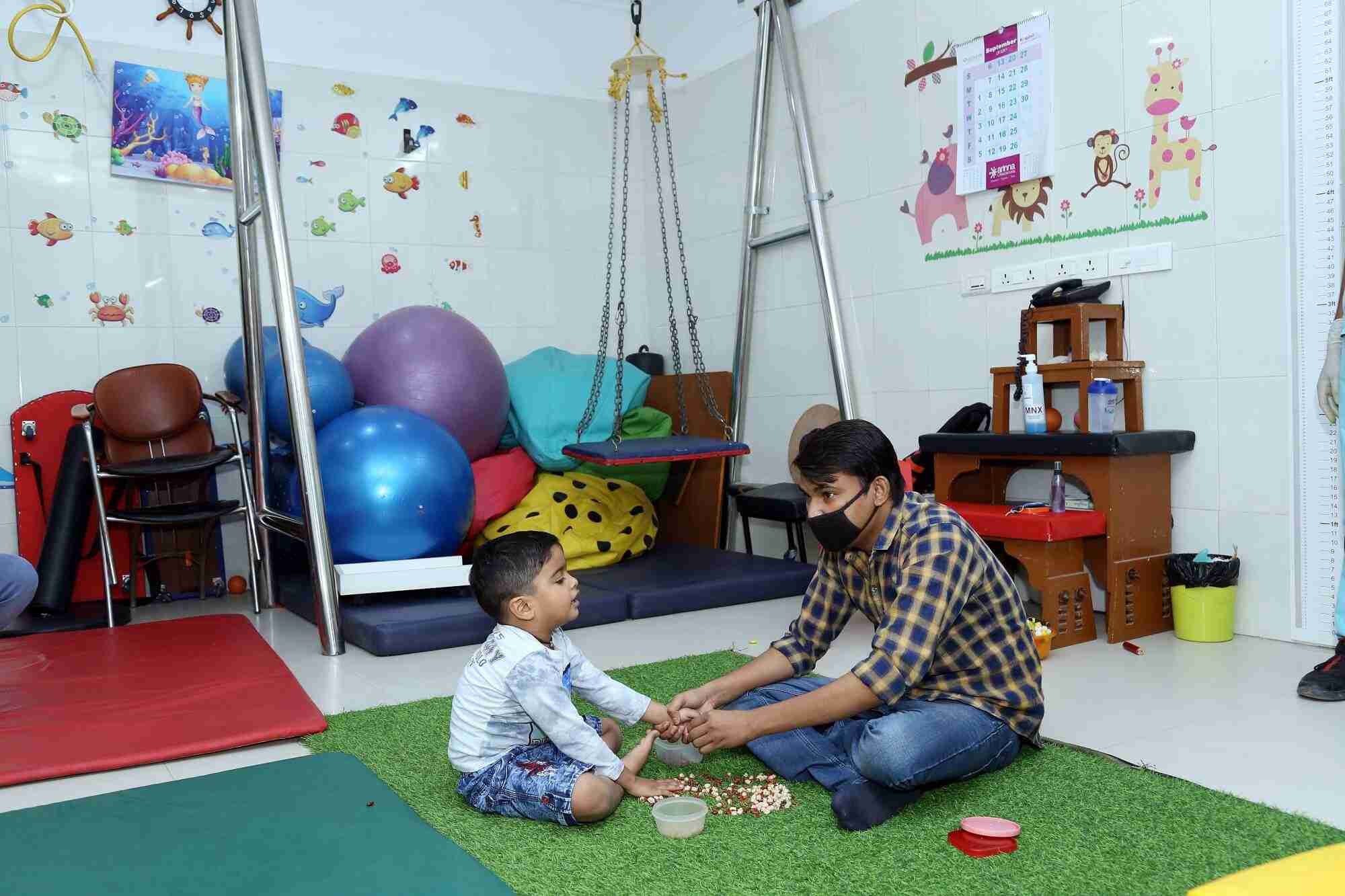 Children With Special Needs
•  Autism Spectrum Disorder
•  Cerebral Palsy
•  Mental Retardation
•  Genetic disorders affecting development: •  Down's syndrome
•  Childhood neuromotor disorders
•  Learning Disabilities
•  ADHD/ADD
•  Global Developmental Delay
•  Childhood behavioural and emotional problems
•  Sensory Processing Disorder, Hearing and speech impairments
हमारा प्रयास, उन बच्चों का विकास जिनकी जरूरत है ख़ास
Conference dolor sit amet, consectetur adipisicing elit, sed do eiusmod tempor incididunt ut labore et dolore magna aliqua. Ut enim ad minim veniam
Behavioral Issues
MR
Epilepsy Childhood
NDT
Brain Gym
ASD
Behavioral Issues
Behavioral issues in children can lead to stress and frustration for the entire family. In young children, these issues may not yet be categorized as a specific diagnosis, but a child with significant behavioral issues may exhibit signs of:
* Anxiety
Having frequent and severe tantrums
Being manipulative
Being repetitively defiant towards those in authority.
Often their teachers, peers, and parents label these children as disruptive, frustrating, mean, or even "bad".
It is important to speak directly with your Doctor concerning the presence or confirmation of any diagnosis of a spectrum disorder.
Sometimes children who demonstrate significant behavioral issues are given a formal diagnosis of oppositional defiant disorder. Often behavioral issues are identified along with another diagnosis like ADHD or Asperger's (now considered a part of ASD). In many cases, behavioral issues never receive a formal diagnosis but nonetheless are a major issue in a child's ability to make and keep friends or succeed in school. They often require intervention due to the impact on family life and disruption to everyday activities.
Symptoms of Oppositional Defiant Disorder (ODD) :-
* Signs of oppositional defiant disorder in children are usually apparent before the age eight. Behaviors may occur most with people the child knows well, such as family members or care providers. These behaviors are frequent, not age appropriate, and cause significant issues at school, at home, and/or with peers. Signs of ODD include (1)Losing one's temper often.
Frequent arguing with adults or refusing to comply with adults' rules or requests.
Often getting angry or being resentful or vindictive.
Deliberately annoying others; easily becoming annoyed with others.
Often blaming other people for one's own mistakes or misbehavior.
MR
Epilepsy Childhood
NDT
Brain Gym
ASD